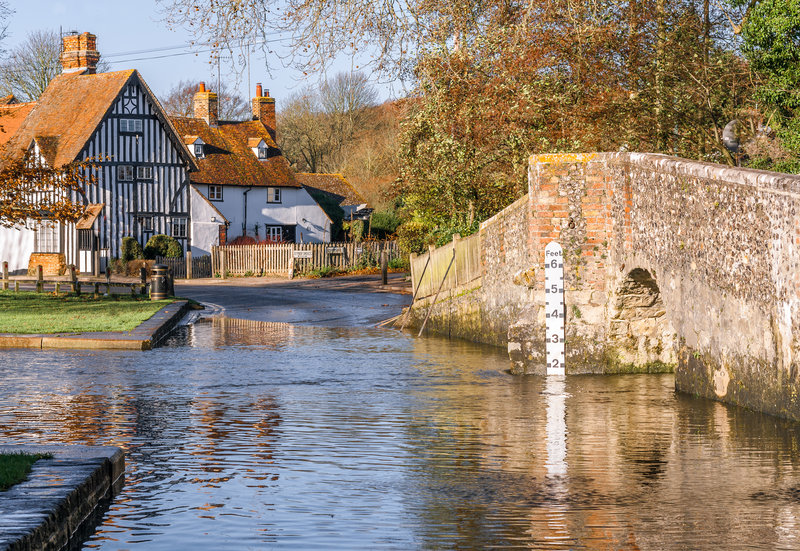 Fondly known as 'The Garden of England', Kent is renowned for its abundance of hop farms and orchards, glorious gardens and lush rolling countryside. Also famed for its bluebell woods, flower meadows, iconic White Cliffs, ancient woodlands and mysterious marshes, Kent is the perfect place to enjoy wide open skies and a diverse countryside rich in flora, fauna and wildlife.
However, it's not all about oast houses and country parks. From majestic castles and historic houses to windswept cliff top walks and golden Blue Flag beaches, Kent has a vast array of attractions and activities to suit all ages and interests. Whilst the list could go on forever, we have provided a summary of what we think are the best things to do on holiday in Kent.
The White Cliffs of Dover
The White Cliffs of Dover are arguably one of the country's most iconic landmarks. The fantastic coastal views, rare wildlife and fascinating history makes the four mile White Cliffs of Dover Wildlife Trail the perfect spot to blow the cobwebs away. See if you can spot kittiwake's nesting amongst the cliffs, Chalk Hill Blue Butterflies fluttering in the breeze and pyramidal orchids. When you have had your fill of fresh sea air climb to the top of the South Foreland Victorian lighthouse and then pop into the visitor's centre café for some tea, homemade cake and the most fantastic view over the English Channel. Perched high up on the White Cliffs you also shouldn't miss the infamous Dover Castle. The kids will love exploring the secret wartime tunnels and opulent royal court of King Henry II.
Faversham
Dating back to the pre-Roman era when it was heralded as one of the key centres of the UK's explosives industry, Faversham is one of the UK's most historic market towns. Whilst there was once a large Roman settlement established in the town, Faversham now sees many Roman architectural influences spread around the area with the surviving remnants of a Roman theatre and outdoor auditorium giving modern day visitors a unique insight into the historic importance of the town. Faversham is believed to have been the summer epicentre for Saxon Kings and their influence can be seen today in the Faversham Parish Church, established by King Stephen in 1147. It's not all about the Romans though! This charming town is home to many tea shops and restaurants, as well as Britain's oldest Brewery, Shepherd and Neame, where a tour and tasting is high recommended!
The Kent Downs
For the more active holidaymaker, the Kent Downs, which is in an Area of Outstanding Natural Beauty, boasts a wealth of walking and cycling trails with beautiful scenery to enjoy along the way. Arguably the most popular, the North Downs Way, is 153 miles long, beginning at Farnham and ending at Dover. This is still a popular route for Pilgrims who travel all the way from Winchester to link up with the North Downs Way en route to Canterbury Cathedral. Don't worry if 153 miles sounds slightly ambitious! There are numerous shorter circular routes along the way that take you through some of the best landscapes of the Kent Downs.
The Medway Trail is a great canoe route for anyone looking for an adventure. Beginning at Tonbridge and ending at Allington, this 29km stretch of relaxing waters provides a calm and serene view of the Kent Downs without having to travel by car. Otters reside in the Kent rivers and barn owls have been spotted hunting over the grasslands so look out for these wonderful creatures whilst you slowly drift along the water. If you need to refuel along the way, the cafe at Teapot Island beside the river at Yalding is a good place to stop.
For those looking for something more sedate, spend a day wandering around the gardens of Doddington Place near Sittingbourne or visit Chartwell, the family home of Winston Churchill. Alternatively, visit one of the picturesque Kent villages such as Eynsford with its pretty meandering river, castle ruins, lavender fields and Lullingstone Roman Villa.
Wildlife adventures
For those looking for a wildlife adventure, Kent has two large wild animal parks. Owned by Howletts Wild Animal Trust, working in conjunction with the Aspinall Foundation, the parks are amongst the world's leading breeding sanctuaries for endangered species. Both parks offer a great family day out and are not too far apart. Port Lympne is located near Hythe on the Kent coastline and is the larger of the two parks. It has a 'resort' feel whilst offering a true African experience with guided safari tours allowing you to get close to animals such as zebras, giraffes and ostriches as they roam freely in the grounds.
Howletts, which is located just three miles from Canterbury, offers plenty of opportunities to learn about its many endangered species including the black rhino, Chinese leopards and its large herd of African elephants (adults down to adorable toddlers!). You can become a Keeper for the day or book an 'animal encounter' allowing you to spend time with some of the most endangered species on the planet. If that's not exciting enough, anyone feeling especially brave can take on the Tree Top Adventure challenge!
If you are looking to spend a family day out with more traditional farm animals you can visit a real working farm at Kent Life near Maidstone. Set within 28 acres of grounds there are plenty of animals for the children to feed, groom and pet, as well as donkey rides, a nature trail and an owl academy. Any brewing enthusiasts should visit the gardens where they can learn about the traditions of hop picking whilst visiting the country's last remaining coal-fired oast house.
The Knole deer park, the only medieval park in the region, makes for another fascinating day out. The herd of Sika and Fallow deer are all direct descendants of animals from the Tudor era. The park remains mostly unchanged from its 17th century origins and its vast country house with its impressive collection of textiles and furniture attracts visitors from around the globe.
A day by the sea
Who doesn't love a day by the sea? Kent has 350 miles of stunning coastline and some of the country's finest Blue Flag beaches to explore. For those who want some traditional seaside fun, head to the golden sands of Margate with your bucket and spade for a day of sandcastles, fish and chips and amusement. If you want to throw in some culture, visit the Turner Contemporary Art Gallery or the UK's only Royal Harbour in nearby Ramsgate. This is a great place for lunch whilst watching the boats coming and going in the marina.
A little further around the coast is the quirky and vibrant seaside town of Whitstable where you will find a lovely pebble beach, great seafood restaurants and independent boutiques. Wander around the harbour fish market and either pick up the 'catch of the day' for supper or treat yourself to a lobster lunch. If you would rather escape the crowds head to one of the little sandy bays such as Botany Bay in Broadstairs.
For any adrenaline junkies out there one of the best things to do on holiday in Kent is to have a go at kite surfing. Both Greatstone and Hythe beaches are popular kite surfing spots and also have kite surfing schools. Or take your surf or boogie board to one of the many expansive sandy beaches to catch a few waves. Viking Bay in Broadstairs or Joss Bay near Kingsgate are both good surf spots and they also have surf schools.
Dymchurch is another great beach that is popular with families. With three miles of relatively flat sands, Dymchurch is a great place for swimming, beach activities and even a traditional donkey ride. You can combine a few hours on the beach with a nostalgic trip on a miniature steam and diesel locomotives at Romney, Hythe and Dymchurch Railway. Dogs are welcome to join you on the train as you explore the Romney Marsh landscape.
Whilst many of Kent's beaches have dog restrictions between 1st May – 30th September, there are some with no restrictions (including Whitstable Beach and Kingsgate Bay). Some also allow dogs before 10:00 and after 18:00 (including East Cliff Beach and Botany Bay in Broadstairs) so your dog can still enjoy the quietest part of the day on the beach. You can find out more about dog friendly attractions in Kent here.
King of the castle
If castles are your passion, then Kent will spoil you. Being the oldest county in the country it has more castles and historic houses than any other. From Hever Castle, the childhood home of Anne Boleyn, to the romantic Scotney Castle near Tunbridge Wells, it is hard to pick a favourite.
However, if you only have time to visit one, our recommendation is Leeds Castle near Maidstone. One of England's most historic and romantic buildings, this impressive moated castle has been residence to lords, ladies and even royalty for nearly 900 years. Set in a stunning position and beautifully preserved, Leeds Castle hosts numerous events and is a year-round attraction. With plenty to offer children (including wildlife walks, a maze, Go Ape outdoor adventure and falconry displays) and lots for the adults too (from a game of golf to the splendours of the castle itself), Leeds Castle is an attraction for all ages come rain or shine.
Other historic attractions that shouldn't be missed are Sissinghurst Castle Garden, and both Canterbury and Rochester Cathedrals.
Local delicacies
As well as the diverse array of attractions and outdoor activities on offer, one of the best things to do on holiday in Kent is to simply spend time in the pretty villages and enjoy the local delicacies on offer. Visit a farmer's market and sample local fruit, vegetables, game and home reared organic meats, or head to the coast and pick up Whitstable Oysters or wonderfully fresh Dover Sole. If you fancy a tipple, try a pint of Spitfire, brewed by Britain's oldest surviving brewery or a glass of English wine from an award winning Kent vineyard.
With so many fantastic things to do in Kent it is not surprising that it is such a popular holiday destination. Whether you are looking for water-based activities, or prefer to keep your feet firmly on dry land, the 'Garden of England' offers a stunning and diverse landscape providing the perfect playground for outdoor enthusiasts. Historians and garden lovers will love the rich history and mild climate, whilst families will be spoilt for choice with the vast array of attractions and activities on offer.
Just half an hour from central London, Kent is perfectly located for a weekend break as well as a longer holiday. If you are looking to find your perfect holiday pad in this beautiful part of the world Independent Cottages has wide selection of holiday homes to rent in Kent. Why not stay in an apartment by the sea, a smugglers cottage or a rural farmhouse? Wherever you choose to stay, be warned, you are likely to find yourselves returning time again and again to this magical corner of the country!