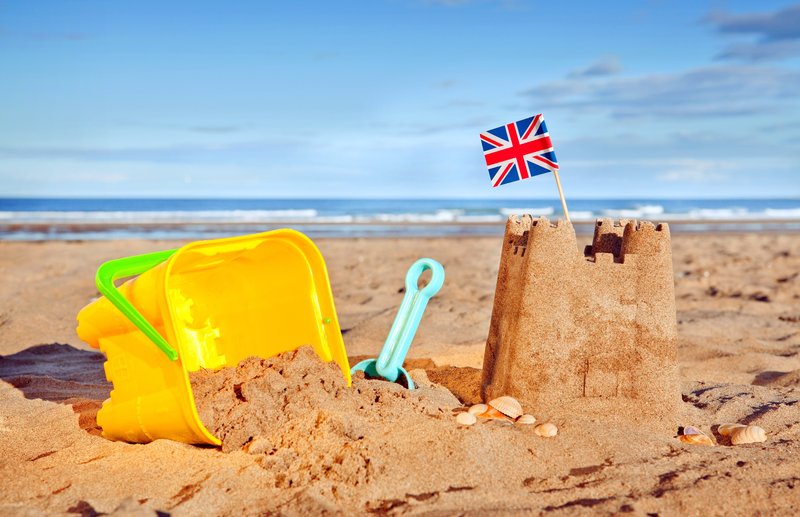 If you are looking to blow the cobwebs away and recharge those batteries there is nothing more rejuvenating than a holiday by the sea. Enjoy relaxing in the sun with the sand between your toes whilst listening to the waves gently crashing on the shore. Go body boarding, build a sandcastle or simply enjoy the local catch of the day and a bucket of chips watching the sun set over the sea. Whatever you choose to do, the combination of fresh sea air, bracing salty water and a slightly sunburnt nose is the perfect tonic to escape the hustle and bustle of everyday life.  
Whilst some coastal towns have modernised and become trendy hot-spots, others have retained their traditional bucket-and-spade appeal, albeit with a better standard of accommodation! If you are looking for flexibility, space and convenience you should consider booking a self-catering seaside holiday. Instead of being restricted to a small area you can use your holiday cottage as a base to explore the wider region, giving you the chance to try different beaches, restaurants and activities. There is nothing better than returning back to your cottage at the end of each day to enjoy a family BBQ, or just relax in the comfort of your 'home' as you plan the next days' adventures.
With over 11,000 miles of coastline in the UK there is no shortage of beach holidays to choose from. From Punch and Judy shows and donkey rides on the beach to the finest crab sandwiches in the country, here are our top ten traditional seaside holiday destinations.
Cromer, Norfolk
Norfolk's northern shores are a mirage of soft white sand and the sparkling North Sea. Nestled between towering cliffs, the traditional seaside town of Cromer is often described as the 'Gem' of the Norfolk coast. Cromer is arguably best known for its' 500 foot Victorian pier, Cromer crabs and wide sandy beaches. The impressive pier is home to the UK's only remaining traditional 'end of the pier' show at the Pavilion Theatre. On a sunny evening you will find the pier lined with families dangling their crab lines over the edge. However, it's not all about crustaceans and variety shows. You will also find rockpools, cliff-top gardens, a lifeboat station, fantastic coastal walks and independent boutique shops making Cromer a popular family holiday destination at any time of the year.
If you are keen to explore the surrounding area take a day trip to Hunstanton to visit the Sea Life Sanctuary. Be wowed by the Blacktip Reef sharks, Green Sea turtles and Penguins or see if you can spot Nemo in the tropical fish display. They even have a seal hospital and rehabilitation centre. If you prefer your wildlife with feathers instead of fins visit the RSPB Titchwell Marsh. Located within the Norfolk Coast Area of Outstanding Natural Beauty there are plenty of fantastic walks with stunning views and fascinating wildlife to explore nearby.
Conveniently located to reach Norfolk's other attractions including the beautiful city of Norwich and beaches like Sheringham and Wells-next-to-the-Sea, Cromer is a fantastic place to base yourself on holiday.
Weymouth, Dorset
Blessed with one of the warmest climates in the UK, Weymouth has been a summer holiday hot-spot for centuries. Its charm lies in the generous expanse of clean sand, safe swimming waters and an attractive esplanade which faces out towards Weymouth Bay. You will find traditional seaside entertainment in the form of Punch and Judy shows, a funfair, pier and beachside cafes selling steaming hot chips in a paper cone. You can even rent a traditional wooden beach hut for the day. Nothing beats watching the kids bury Daddy in the sand whilst relaxing in a deckchair with a cup of tea brewing in your hut!
Weymouth is at the eastern tip of Dorset's Jurassic Coast which is protected by its status as a UNESCO World Heritage Site. If you fancy exploring this beautiful coastline the kids will love fossil hunting at Charmouth or Lyme Regis beaches. Or learn about life under the waves at Weymouth Sea Life and Adventure Park. Walk under the ocean, see the world's smallest penguins and cool off in the splash zone. Weymouth also has a rich sailing heritage, including hosting the Olympic and Paralympic sailing events in 2012. See if you have what it takes to ride through the waves at one of the local sailing schools, or if you would prefer to head out to sea in something a little less bumpy take a trip out to sea with Coastline Cruisers. If a beach trek is what you want then you can walk the coast line past the famous Chesil beach towards Hive Beach and stop at the wonderful bisto, The Three Horse Shoes for a drink and some excellent food.
From beachside apartments to large coastal family retreats, there are a number of self-catering cottages to rent along this stunning coastline.
Minehead, Somerset
If you are looking for all the fun of a traditional seaside town with a bit of a twist head to Minehead in Somerset. The sweeping beach and clear waters are perfect for building sandcastles, going for a paddle or even trying your hand at kite or wind surfing. Thrill seekers will love the fairground rides and splashing around in the slides and rapids for the day at Butlins. Or hire a stand-up paddleboard or kayak and head out to sea. If you prefer a slower pace of life you can watch the world go by at the beautiful Blenheim Gardens. Enjoy a round of crazy golf or treat yourself to one of the summer concerts at the bandstand. A stroll through the historic harbour and fisherman's quarter is perfect for soaking up the fascinating folklore and myths of this beautiful seaside town.
You can see more of Somerset's beautiful coastline on a day trip on the West Somerset Railway's wonderfully restored steam train. If you want to stretch your legs, lace up your hiking boots and navigate the South West Coast Path. You will be rewarded with miles of stunning views passing through Nature Reserves, Heritage Coastlines, Areas of Outstanding Natural Beauty and National Parks. If you are looking for a complete contrast to lazy days on the beach head slightly inland to Dunster to see its ancient castle or the infamous wild moorland on Exmoor. Postcard-pretty Porlock Weir is also a lovely place to while away a few relaxing hours browsing local arts and crafts for holiday gifts. 
The large number of cottages to rent in Minehead makes it a fantastic location for a family friendly holiday by the sea.
Scarborough, Yorkshire
There's no better place to tuck into fish and chips than the traditional fishing town of Scarborough. The award-winning beaches, historic harbour, dramatic cliffs and fantastic family attractions makes Scarborough a top holiday destination.
Enjoy the lively atmosphere of South Bay, which enjoys the proximity to the town centre, amusement arcades, shops, eateries and harbour, or enjoy the quieter North Bay, with its chalet-lined promenade and the fascinating Sea Life centre. Both beaches have fine soft sand and calm water, perfect for splashing about in the waves. When you are done with exploring the rockpools and building sandcastles you can visit the medieval ruins of Scarborough Castle, enjoy the serenity of Peasholm Park, or have fun on the vintage fairground rides at the Scarborough Fair Collection. Any walking enthusiasts can explore the stunning coastal path or head out to the tranquillity of North York Moors.  
The mix of traditional seaside fun, stunning beaches and rich history makes Scarborough a fantastic place to base yourself on holiday in Yorkshire.
Llandudno, North Wales
The Victorians certainly knew how to create fantastic seaside resorts and Llandudno is no exception. The attractive beach is backed by a typical Victorian promenade and is surrounded by glorious countryside and the mountains in Snowdonia. Llandudno pier, the longest in Wales, hosts a variety of traditional seaside entertainment including rides and puppet shows, as well as the customary shops selling buckets and spades, beach balls and ice-creams. If you want to step back in time, make sure your holiday coincides with the annual Victorian Extravaganza where you can enjoy a fun filled weekend of vintage attractions and fairground rides.
When you have had your fill of Punch and Judy you can escape to the top of the Great Orme. Standing at over 200 metres, Llandudno's own mini mountain is the perfect antidote to a busy morning on the beach. A walk to the top will certainly give you the perfect excuse to treat yourself to a Welsh cake on the summit. Alternatively, you can take the Edwardian tram or enjoy a ride on Britain's longest cable car to get to the top. Once you have reached the summit you can visit Bronze Copper Mines, whizz down a ski slope. The views out to sea and across the Conwy estuary towards Snowdonia National Park are simply stunning. Equally, taking the Snowdon Railway is another opportunity to take in the sensational scenery. Further south, in Mid Wales you can explore underground with Corris Mine Explorers which starts from one of the best craft centres in Wales, Corris Craft Centre.
Any thrill seekers should have a go at surfing in the mountains at Adventure Park Snowdonia or whizzing through the air on the fastest zip line in the world at Zip World. Taking children to King Arthurs Labyrinth, based further south in Corris is always a treat. And a holiday in Wales wouldn't be complete without seeing at least one castle. The impressive Conwy Castle is one of the finest surviving medieval fortresses in the world.
From traditional seaside activities to adrenaline filled adventures, a holiday in one of our cottages to rent near the pretty seaside town of Llandudno is sure to keep everyone entertained.   
Torquay, Devon
If you are looking for a traditional seaside resort but you don't want to compromise on comfort and style, it's hard to beat the vibrant and thriving seaside town of Torquay. Located in the heart of the beautiful English Riviera on the south coast of Devon, Torquay is often described as the 'jewel in the crown' of this stunning coastline. It's sunny climate, iconic palm trees, sandy beach and busy harbour attract thousands of visitors every summer. Enjoy an ice cream whilst lounging in a deck chair at Torre Abbey Sands or get the adrenaline pumping on a speedboat trip or ringo ride. If you are after something a bit more sedate you can hire a Pedalo or take a boat trip out to sea. End the day with an evening walk over the Millennium Bridge and a ride on the Ferris wheel.
The kids will love a trip to Paignton Zoo. Whether you visit the Savannah, Desert House, wooded forest or the Crocodile swamp, the huge variety of animals living in the 80 acres of natural habitat is sure to keep everyone entertained. See how many life size animals made out of Lego you can find on the Great Big Brick Safari trail. Or feel like a giant for the day at Babbacombe Model Village. This miniature world will capture the imagination of all ages. Kids will love all the miniature characters and adults will love the subtle humour of the intricate displays which is bound to bring back many childhood memories. For something completely different, experience how Victorians lived at the fascinating Bygones Museum. 
Whilst Torquay is without doubt a traditional bucket and spade resort, in recent years the fantastic choice of continental style cafes, Michelin starred restaurants and cocktail bars also makes it a real foodie paradise. Whether you are after award winning fish and chips or a unique gastronomical experience, Torquay's Mediterranean atmosphere gives this traditional resort a contemporary and stylish edge.
Margate, Kent
Margate has a unique blend of a traditional seaside resort with a contemporary twist. Whilst it has vintage charm in buckets and spades, the world class art galleries, chic cafes and independent shops add a modern vibe to this bustling seaside town. Head to the recently renovated Dreamland Margate for your fill of retro rides including dodgems, the UK's oldest surviving rollercoaster and a kiss-me-quick. The Roller Diner and ice-cream parlour give the park a cute 1950s vibe. Another 'must-do' is a visit to the mysteriously beautiful Shell Grotto. The intricately decorated grotto was discovered in 1835, but no one knows who created it, when, or why.
Margate's Old Town has a mix of trendy eateries and quirky shops as well as some traditional seaside pleasures. The Margate Museum offers a great insight into the history of this quirky town, from sea bathing and donkey rides to its Roman history. Just a short walk away you will find the internationally famous Turner Contemporary gallery. Once you have finished browsing these world-class art displays, take a stroll along the harbour where you will find a number of enticing spots to find something to eat and drink. 
From family-holiday nostalgia and sandy beaches to a buzzing coastal town packed with hipster hangouts, Margate makes the perfect seaside break. It's close proximity to the big smoke means you can be walking out of the office at 5 o'clock on Friday evening and enjoy a sundowner, fish and chips and a spectacular sunset on the beach just a few hours later.
Broadstairs, Kent
Just around the corner, the coastal town of Broadstairs is another popular spot for a traditional family getaway to the seaside. And it's easy to see why. Set above a pretty harbour, this charming town boasts several beaches, cliff top walks and picturesque fishermen's cottages. Viking Bay has everything you would expect from a traditional seaside beach including children's rides and a cliff top promenade. If you want to catch some waves head around the corner to the surf school at Joss Bay, or go rock pooling and admire the colourful beach huts at St Mary's Bay.
This quintessential seaside town was also a favourite of Charles Dickens'. Any fans will love browsing through the memorabilia at the Charles Dickens' museum or attending the annual Dicken's Festival in June. Foodies will love Broadstairs too. From fresh lobster and crab sandwiches to 1950s ice cream parlours and craft beers there is something to suit everyone – including vegan fish and chips!
If you can't decide which beach to head to on this magical corner of Kent, stay in one of our cosy cottages and visit them all!   
Morecambe, Lancashire
There is a lot more to Morecambe bay than cockles and potted shrimps. This traditional seaside town is set around an impressive promenade overlooking 5-miles of sandy beach. At the end of the promenade, the original harbour, which has been recently refurbished into a Stone Jetty, is the perfect place to admire one of the famous sunsets or simply take a stroll and enjoy the unique art, sculptures and children's games.
The charming promenade and golden sandy beaches are the perfect spot for enjoying some traditional seaside fun. Build a sandcastle, go for a splash in the sea or enjoy an ice cream whilst admiring the view across the bay all the way to the Lake District. There are also plenty of other beautiful beaches nearby to explore. If you are looking for an adventure, explore the caves, rockpools and nooks and crannies at Silverdale Cove.
For a day of classic family fun, Happy Mount Park has everything you would expect from a traditional family park. The kids will love cooling down in the splash park after a competitive game of crazy golf! If you want to explore Morecambe on two wheels, the Bay Cycle Way is a fantastic family friendly cycle route that runs for miles and miles along this stunning coastline. Or try your hand at sailing in the beautiful Morecambe Bay at the Bay Sea School.  
Morecambe Bay has some of the best coastline in the UK. From shrimps to sandcastles, stunning sunsets and adventure activities, staying in a holiday cottage in this beautiful corner of Lancaster is the perfect spot to relax, explore and unwind.    
Sandown, Isle of Wight
Whilst the Isle of Wight might be best known for the yachting regatta in Cowes, you don't need to own a boat to enjoy a traditional seaside break on this stunning little island. The beautiful sheltered bay at Sandown offers everything you would expect from a British bucket-and-spade holiday. Hire a deckchair and windbreak and set up camp for the day on the soft golden sands. Fly a kite, enjoy a cone of chips on the beach, go for a surf or just enjoy splashing about in the sea.
The esplanade has plenty of souvenir and beach shops or head to the traditional pleasure pier for an afternoon of amusement. With rides for all the family, including dodgems, quad bikes and tea cups and activities such as crazy golf and ten pin bowling there is plenty to keep everyone more than entertained. Don't forget to have your photo taken in one of the kiss-me-quick saucy postcard boards for the ultimate cheesy memento of your holiday! 
Any dinosaur fans should head to the interactive Dinosaur museum or walk along the promenade to Yaverland beach which is a popular spot for fossil hunting. If you want to venture a bit further enjoy a beautiful 2-mile cliff top walk to the nearby resort of Shankin. Keep an eye out for fossils and the variety of coastal wildlife on the way.    
The Isle of Wight really does have something for everyone. The warm sunny climate, beautiful golden beaches, original seaside charm and close proximity by ferry to the New Forest makes it a fantastic spot for a traditional seaside holiday.
Whether you are looking to revisit childhood memories or just 'get away from it all', you can't bet a British holiday by the sea. Stroll along the seafront with a stick of rock in your hand. Eat fish and chips wrapped in newspaper on the beach. Build a sandcastle. Have a round of crazy golf. Enjoy the thrill of catching a wave. Or simply work your way through the endless list of ice cream flavours. A traditional seaside holiday is part of our heritage and it's easy to understand why we still 'do like to be beside the seaside.'
Whether you are looking for an adventure on a rocky coastline or are wanting to relax on a long sandy beach with crisp, clear waters, one of these traditional resorts will be perfect for you and your family to have some good old-fashioned seaside fun!
With over 400 holiday homes near a beach and a good number of waterside cottages, we are sure to be able to help you plan your next holiday by the sea.