There are more than 200 beaches in the UK, and the beautiful part is that they are all so varied.  So whether you prefer pretty shingle or golden soft sands, dramatic sand dunes or pretty hidden coves; There is a beach out there for everyone, and with the coastline of Britain spanning an impressive 12,429 km there are plenty of beaches to explore!  Being a tiny island nowhere in Britain is more than 113 km from the coast, meaning beach holidays don't need to involve long journeys.  Our British beaches are considered some of the best in the world, so it makes sense to make them the focus of your summer holiday.
We've put together a list of our top ten British beaches to get you inspired for the summer.
Rhossili Beach, near Swansea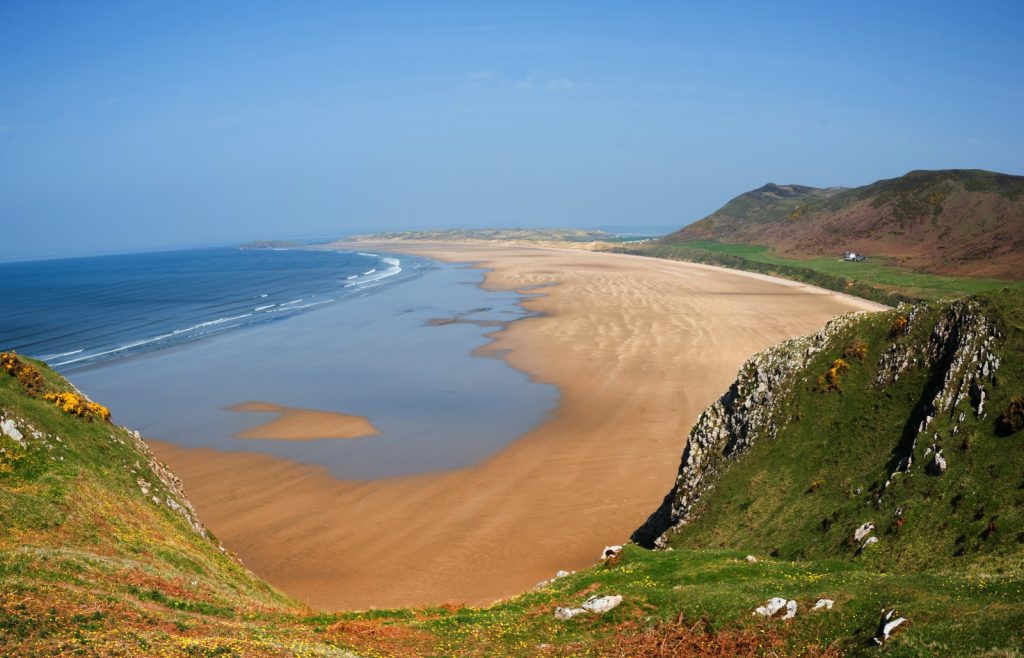 Rhossili beach sits on the Gower Peninsula in South Wales. It is as picturesque as they come and has been voted Best British Beach and 9th Best Beach in the World by Tripadvisor.  It's family friendly, wheelchair accessible and is considered UK's no.1 dog friendly beach.  Parking, refreshments and public transport are all within 400 metres.  It's ideal for water sports and surfing, has some fabulous coastal walks and the golden sands are perfect for lounging about in the sun.  If you're lucky you'll even spot some dolphins frolicking in the surf or maybe even some basking seals.
Holkam, Norfolk
Holkam beach sits on the Norfolk coastline and has recently been voted no.1 beach in the UK by a group of top travel writers.  It was the location for the iconic final scene of the film Shakespeare in Love when Gwyneth Paltrow walks over stunning white sands. Completely unspoilt, the area boasts a wide variety of rare flora and fauna and the beach is full of pretty seashells, along with cool shady pine forests to get out of the sun near by.  The striking golden sand is clean making it ideal for families with young children. With plenty of sand dunes to explore, the beach is so vast that it never feels crowded.  There are no lifeguard facilities, so please take care while in the water.  It's perfect for paddling, building sand castles and flying kites.  You might even want to stop in at the Victorian pub for a light lunch or hearty dinner. If you would like to find out more about Norfolk, read our holiday guide.
Kynance Cove, Cornwall
Kynance Cove benefits from a dramatic Cornish landscape and rare wildlife.  There are adequate facilities near by, including  a car park, café and toilets (including mobility toilets).  The only down side to this beautiful beach is that dog owners will want to look elsewhere as there is a seasonal dog ban in place.  For those without pooches, there is a great programme of events on for Kynance Cove and the surrounding area; activities such as guided coastal walks, foraging hunts and kayaking are available.  It's the perfect beach for those who love exploring rugged scenery, rather than flat expanses of beach.
Barafundle Bay, Pembrokeshire
Barafundle Bay in Pembrokeshire has won countless awards, and it's easy to see why.  It's a small bay fringed by beautiful cliffs, sand dunes and pine trees.  The cliff walk from Stackpole Quay car park isn't suitable for wheelchairs or pushchairs, but is a stunning walk for those who can make it.  What it lacks in facilities it makes up for with its soft sands, and crystal clear waters.  Many liken this bay to a Caribbean beach.  It's ideal for bathing and playing in the sand.
Bamburgh Beach, Northumberland
This is a truly unique beach on the Northumberland coast, being overlooked by the majestic remains of the 18th Century Bamburgh Castle.  As well as being family friendly and dog friendly, the beach is ideal for horse riding too.  It's immense size means that it doesn't feel crowded.  It's renowned as a surfer's beach, which adds to the charm.  Even if you don't surf yourself, you can't fail to be amazed by the tricks and stunts performed over the waves.  It's ideal for rock pooling and there are some stunning views of surrounding islands.
Luskentyre Beach, Isle of Harris
As well as being voted Britain's best beach, it has also been ranked within the top ten beaches in the world.  It's a vast stunning sand shell beach with distinct turquoise blue waters.  Wild ponies frequently stroll along the sands and the area is also renowned for deers, seals, dolphins, otters and eagles.  Botanists will enjoy the pretty flowers that embellish the sand dunes, families will enjoy the vast spread of sand and the more adventurous will adore exploring the rugged coastal paths.
West Wittering, West Sussex
Uniquely clear waters make this stunning Blue Fag beach in West Sussex the perfect family hangout and if things get a bit too sandy, there are immaculately mown lawns nearby for a picnic.  The sea is perfect for surfing and water sports, there are even shallow lagoons for those who prefer to paddle.  A café sells drinks, ice creams and beach goods; and there is even a windsurfing and kite surfing club complete with clubhouse, changing rooms, showers, tuition, board hire and a rescue service. For wildlife enthusiasts, this Area of Outstanding Natural Beauty is internationally recognised for its marine, bird and plant life.
Studland Beach, Dorset
Not only is Studland Beach blessed with 4 miles of gloriously sandy beach, but it is flanked by stunning white cliffs and offers beautiful views of the Isle of Wight.  Its picturesque location in Dorset, makes sunbathing even more enjoyable.  Studland itself was the inspiration for Toytown in Enid Blyton's Noddy books, and is full of charm and character.  There is a wealth of nature in the area, with special self-guided trails to take you through the forests or sand dunes. For horse riding enthusiasts be sure to check out the Studland Trekking Centre for wonderful rides along the beach. It's ideal for families as there are baby changing facilities on site and you can even loan a pushchair at Knoll Beach.  There is a café, beach huts, boating and water sports.  Studland Beach also hosts one of Britain's most popular naturist areas, which is clearly marked for those who'd rather not disrobe!
Sandsend Beach, Yorkshire
Sandsend is a small, intimate beach in Whitby, North Yorkshire.  It's favoured by fishing enthusiasts and fossil collectors, and is the perfect beach for small children as the beck provides safe paddling and boating.  The beach joins on to Whitby sands, allowing you to walk further along the stunning Yorkshire heritage coastline.  It is open all year round, but it's worth your while checking tide times if you want a lot of time on the sand.  Light refreshments are available, and there are toilets close by.
Formby Beach, Lancashire
If coastal pine woods and striking sand dunes float your boat, then you must take a trip to Formby Beach in Lancashire.  It is such a stunning area; you can play spot the red squirrel, walk for miles along the picturesque coastal walk and soak up the dramatic views.  Keep your eyes peeled for the rows of fir trees, an ingenious initiative of encouraging locals to plant their Christmas trees to help prevent coastal erosion.  With over 250 acres of scenic woodland and vast spreads of golden sand, it's the ideal walking beach.  Dogs are allowed too.  There are baby changing facilities, picnic areas and pushchair accessible woodland paths.  A mobile van sells drinks and refreshments during the peak period.  It's ideal for horse riding, you simply need to buy a £2.50 permit.
So before you book a beach holiday abroad, why not consider visiting one of our British beaches for your next holiday?  Self-catering cottages and beaches are the perfect mix, and there are plenty of beautiful coastal cottages that will serve as a cosy home from home.